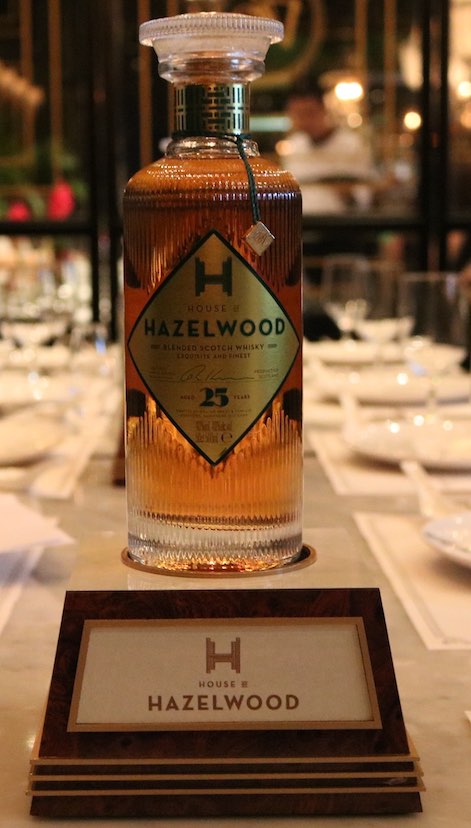 The House of Hazelwood is created by the Master Blender of William Grant and Sons, Brian Kinsman. Inspired by family ancestor Janet Sheed Robert and the 1920s classic elegance of Shanghai, a city that stood at the centre of Cathay elegance in the 1920s. This expression is the pride of the Master Blender as every single malt that earned its place in his final selection are rare in their own ways. All these prized single malts are then married in American oak. The complex and diverse flavours are then allowed sufficient time to infuse and mellow, resulting in a magnificent whisky that is at once rare and unique.
Tasting Notes:
Colour: Amber
ABV: 40%
Nose: We get hit by refreshing caramelised brown sugar at first waft followed by variants of vanilla, maple and soft spice. Hints of freshly sawn wood adds to the complexity while citrus zest and orange blossoms lingers in the background. (16 points)
Palate: A pleasant combination of spice and sweet vanilla rolls off the tongue as we sipped. The spice adds a tingling to the tongue while the sweetness of vanilla softens the sharpness of the spice. (15 points)
Body: While it may not be as well balanced as the 21 years old expression, this expression adds points to the body by keeping true to its sweet vanilla overtones in both the nose and the palate, making it a pleasant and luxurious drink. (32 points)
Finish: Long and yet dry, the 25 years old expression lingers long in the mouth with the hint of sawn wood. (17 points)
Total Grade: 80 points
Like what you have just read?
http://www.whiskygeeks.sg/wp-content/uploads/2017/07/25-Years.jpg
828
471
Zerlina Zhuang
http://www.whiskygeeks.sg/wp-content/uploads/2017/07/logo_WhiskyGeeks-300x138.png
Zerlina Zhuang
2017-07-24 20:36:49
2017-08-19 22:21:11
Whisky Review #07 – House of Hazelwood – 25 Years Old Expression