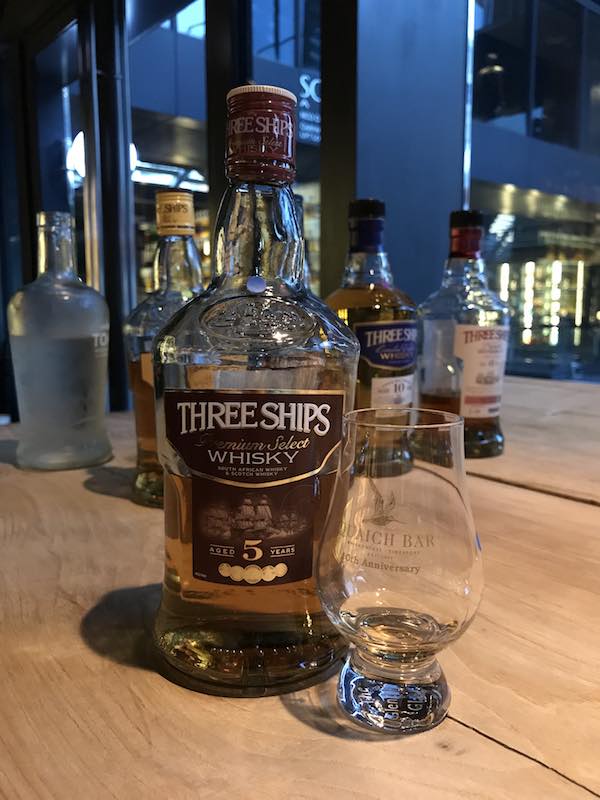 The Three Ships 5-year-old is another core range for the long-living brand in South Africa. It is a premium blend of malt and grain whiskies that starts its journey as an excellent whisky in 1991. James Sedgwick Distillery made the 5-year-old with a heavily peated malted barley before mixing it with a grain whisky. The result is soft smoke and caramel sweetness.
Here's what we think.
Tasting Notes:
Colour: Deep Gold
ABV: 43%
Nose: Soft, peaty notes gently caressed the nose with sweet tropical fruits in the background. There are some hints of vanilla notes mixed with the tropical fruits. (16/20)
Palate: Caramelised red apples with soft smoke coats the palate gently without fighting with dominance. There are also small traces of vanilla cupcakes found in the background. (18/20)
Finish: It has a relatively long finish with sweet vanilla and caramel notes lingering the mouth. The sweetness is gentle and not overwhelming. (18/20)
Body: This is a soft whisky with almost no spice. The peat smoke beautifully complemented the sweetness of both caramel and vanilla. It is balanced and feels much older than a 5-year-old whisky. It is likely due to the climate of South Africa for a 5-year-old to display such characters. (32/40)
Total Score: 84/100
Comments:
Geek Choc: "I think the 5-year-old has a high complexity as compared to the Bourbon Cask Finish. Of course, it should get a higher complexity due to age, but I think that the peat smoke also plays a part in making it more special." 
Where to buy: If you are looking to purchase this bottle, you can find it at Quaich Bar, Singapore's first whisky bar. Alternatively, visit their online store at www.whiskystore.com.sg to get it delivered to your doorstep.
Like what you have just read?
http://www.whiskygeeks.sg/wp-content/uploads/2017/10/Three-Ships_5-Years-Old_Square-small.jpg
800
800
Zerlina Zhuang
http://www.whiskygeeks.sg/wp-content/uploads/2017/07/logo_WhiskyGeeks-300x138.png
Zerlina Zhuang
2017-11-05 08:35:38
2018-01-26 16:18:05
Whisky Review #61 – Three Ships 5-Year-Old