Dufftown, Scotland is an amazing place. It has the highest concentration of distilleries in Scotland that its name is synonymous with Scotch whisky. It was said that Dufftown earns more capital for the UK Government per head of population than any other towns in the UK. Dufftown distillery is one of the nine distilleries. There were 7 previously, promptly a popular rhyme that goes, "Rome was built on seven hills, Dufftown stands on seven stills".
History of Dufftown Distillery
The Dufftown-Glenlivet Company founded Dufftown in 1895. It was formerly called the Dufftown-Glenlivet distillery. Old bottles under the Dufftown-Glenlivet are still in the market. In 1897, Mackenzie & Co acquired the distillery and kept it for the next 40 years. Arthur Bell and Sons purchased the distillery in 1937. It marked the beginning of Dufftown distillery's association with blended whiskies. Most of Dufftown's whiskies go into the Bell's whisky blend, as it still is today.
In 1974, the distillery expanded its stills from 2 to 4, and again from 4 to 6 in 1979. This quick response to a rise in demand contributed to Dufftown's reputation as one of the most best-functioning distilleries in Scotland in terms of production. In 1985, United Distillers acquired Dufftown distillery. They were in turn, acquired by Diageo. In 2006, the appearance of the Singleton of Dufftown signalled some changes in the distillery.
Dufftown Distillery
The Dufftown distillery is one of the most cramped distilleries in Speyside, Scotland, largely due to its haphazard expansion. The site was converted from a mill and space was limited. Nonetheless, the expansion allows the distillery to produce 5.8 million litres of pure alcohol every year. The distillery has a full lauter mash tun of thirteen tonnes, 6 stills, and 8 warehouses with almost 100,000 bourbon barrels and sherry cask of malt whisky. The malting house closed down in 1968. Dufftown distillery now sourced its malts from a Diageo-owned industrial malting site.
Dufftown distillery is closed to the public but it is possible to tour the facility if you ask the distillery nicely in advance!
Dufftown's Whisky
Dufftown distillery produces whisky as a component for Arthur Bells and Sons' blended whisky. In 2006, it joined the Singleton family. As a result, single malt from Dufftown begins to surface in the market. The Singleton of Dufftown 12 Years released in travel retail in the same year. The Singleton of Dufftown 15 and 18 Years Old followed after. In 2014, there were 2 special releases – Singleton Tailfire and Singleton Sunray.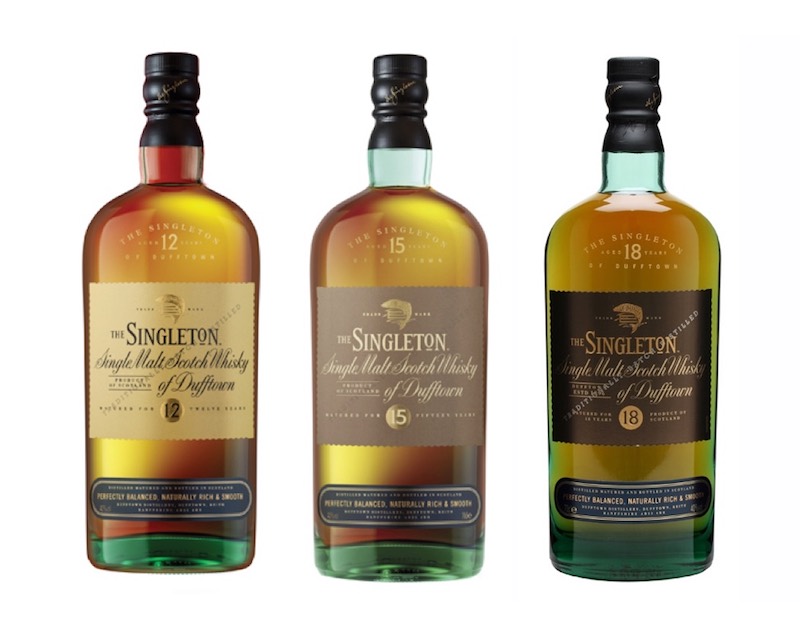 Dufftown Distillery Today
We believe that Dufftown distillery will continue to be part of the blending for Arthur Bells and Sons in the near future. However, with the success of the Singleton of Dufftown, it is possible that this amazing distillery may divert more of its spirits for the single malt market in the future. We hope to see more from Dufftown distillery in future!
http://www.whiskygeeks.sg/wp-content/uploads/2017/09/Singleton-of-Dufftown-spiritsociety.ch-small.jpg
531
800
Zerlina Zhuang
http://www.whiskygeeks.sg/wp-content/uploads/2017/07/logo_WhiskyGeeks-300x138.png
Zerlina Zhuang
2017-09-16 11:28:57
2017-09-16 11:28:57
Dufftown Distillery (Formerly known as Dufftown-Glenlivet Distillery)