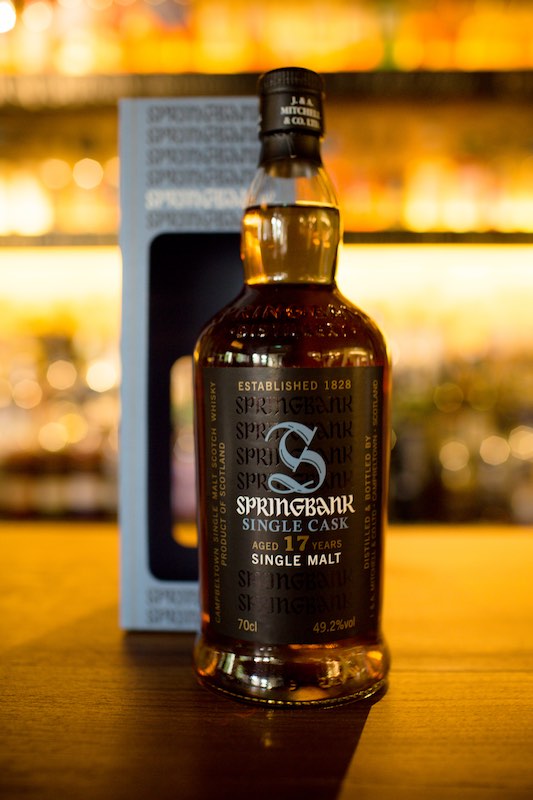 We have previously reported the 10th anniversary of Quaich Bar Singapore and their exclusive range of whiskies. We went down to the bar last week to have a try of their Springbank 17 Years Old whisky! As this expression is the most exclusive among the range with only 114 bottles available, Whiskygeeks feels that we have to try this before it is all gone!
This precious expression is part of a cask taken from the Springbank distillery in Campbeltown. Specially bottled for Quaich Bar Singapore, this expression cannot be found elsewhere. An interesting note about the liquid in this bottle is the fact that the original cask did not belong to the distillery but was sold to a private collector. Quaich Bar's owner, Mr Khoon Hui, persuaded the cask owner to sell him part of the cask while the rest goes to the private collector. If you think just a little deeper, this bottle is the same liquid that is now housed in crystal decanters and displayed in a big mansion!
So what do we think about this? Let's check out the tasting notes!
Tasting Notes:
Colour: Amber
ABV: 49.2%
Nose: Reasonably strong maple syrup and caramel waft up the nose before hints of vanilla come through. Oakiness remains in the background for a while before coming through strongly afterwards. It feels like going to a furniture warehouse sales where you can smell lots of new wood.  (16/20)
Palate: Maple syrup mouthfeel with quite a bit of oil. Strong wood spice hits you in the face before fading into the background where it stays. Vanilla and caramel sweetness come through the spiciness to coat the palate and reduce the spice in the palate. The spice lingers in the throat. (18/20)
Finish: Long, dry finish with woodiness or hay and hints of sweet caramel. The long finish also creates bits of tannin at the end. (17/20)
Body: Highly balanced whisky with sweet maple syrup, caramel and vanilla. The wood spice seems unpleasant at first but develops after some time into a pleasant warm mouthfeel.  (33/40)
Total Score: 84/100 
Comments:
Geek Flora: "I think this is an interesting Springbank that is slightly different from the core range. The heavy wood influence is evident in this well-balanced expression. Worth a try if you have not tried it!"
Like what you have just read?
http://www.whiskygeeks.sg/wp-content/uploads/2017/09/Quiach_Springbank-small-1.jpg
800
533
Zerlina Zhuang
http://www.whiskygeeks.sg/wp-content/uploads/2017/07/logo_WhiskyGeeks-300x138.png
Zerlina Zhuang
2017-09-23 15:10:02
2018-01-26 16:12:05
Whisky Review #39: Quaich Bar Exclusive – Springbank 17 Years Old