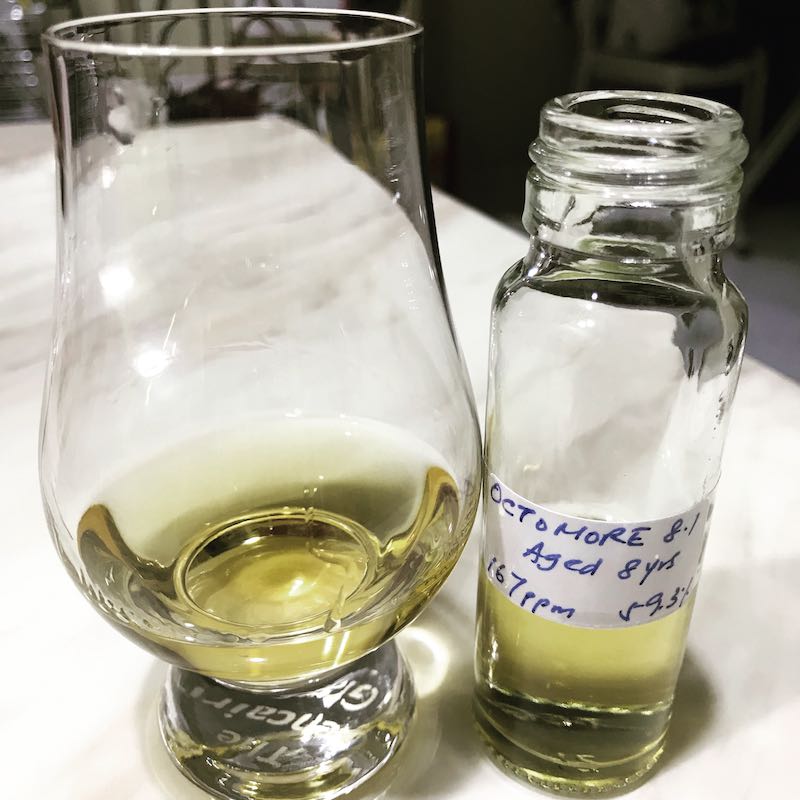 We wanted to try more Octomore after our first experience with Octomore 10, 2nd Edition. We managed to get a sample of the Octomore 08.1 from a friend recently and decided to share our notes.
Octomore 08.1 is aged 8 years. At 167ppm, it is considered a rather peaty whisky.
Tasting Notes:
Colour: Pale Straw
ABV: 59.3%
Nose: Briney notes hit at first with a bit of smoke and spice as well as hints of lemons. It opens up after a while, with vanilla coming forward. The spice and smoke receded into the background with some peat resurfacing after a while. (18/20)
Palate: Sweet vanilla and lemony citrus notes coat the palate before pepper spice rushes in. Hints of nuts can be found in the background. Slight floral notes then kick in with sea salt ending the palate. The peat lingers pleasantly throughout, encompassing but not overwhelming. (18/20)
Finish: Long finish with some vanilla and citrusy notes. Spice lingers in the throat for some time before dispersing into a breath of smoke. (17/20)
Body: Balanced and surprising dram. Good in its own way but did not fare as well as Octomore 10 2nd Edition. (32/40)
Total Score: 85/100
Comments:
Geek Choc: Not my favourite Octomore but I must say that it is still a good whisky overall. I look forward to try more Octomore in future.
Like what you have just read?
http://www.whiskygeeks.sg/wp-content/uploads/2017/10/Octomore-8.1-small.jpg
800
800
Zerlina Zhuang
http://www.whiskygeeks.sg/wp-content/uploads/2017/07/logo_WhiskyGeeks-300x138.png
Zerlina Zhuang
2017-10-22 16:04:15
2018-01-26 16:15:28
Whisky Review #51 – Octomore 08.1