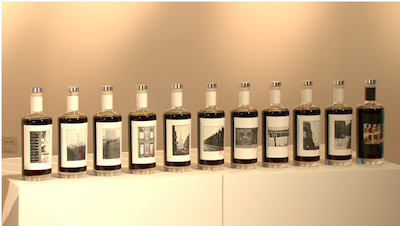 William Grants & Sons did exceedingly well in showcasing creativity and the excellent whiskies they own. The latest drop from the company is an exciting project that involves a "lost gem". Ladyburn 1966 Edition One is the first in a series of rare whisky collection from WG&S. In collaboration with famous photographer, David Bailey, the limited edition collection will be sold through the distiller's direct-to-consumer sales channels.
Who was Ladyburn?
Well, we assure you that no ladies were harmed in the process! Just kidding! Ladyburn was a single malt distillery that sat in the Girvan grain distillery estate from 1966 to 1975. It operated for only 9 years sadly. It was one of the most technologically advanced single malt distilleries during its time but did not survive. WG&S closed the distillery in 1975 and moved its stills to Balvenie and Glenfiddich distilleries. The only trace left of Ladyburn is the maturing casks at Girvan. The remaining casks became rare family stocks in the various warehouses where they sleep.
Demand for Ultra-Rare Whiskies on the Rise
The Grant family is aware that the demand for ultra rare whiskies are rising, particularly in Asia. As more and more people expressed their interest in old and rare expressions, the family realised that they, too, could offer hidden gems such as the Ladyburn 1966 to keen collectors. Therefore, with the aim to share the ultra-rare whiskies that they own, they began to work on the collection which you now see.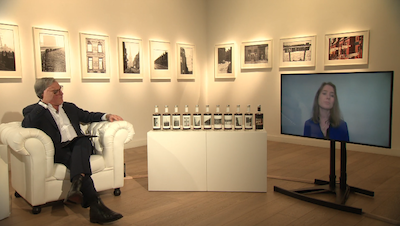 During the virtual launch that WhiskyGeeks attended, the discussion surrounded the beauty of pairing art with whisky. They are an excellent pairing, especially when we pair unseen art done by a famous artist with rare, exceptional whisky. The result is a collection that private clients hunting for a great value preposition will be willing to shell out for.
More about Ladyburn 1966 Edition One
The Ladyburn 1966 Edition One is limited to 210 bottles. It is a celebration of cultural and social change of the decade. WG&S collaborated with iconic photographer, David Bailey, to showcase a rarely seen side of his work. Each label of the collection depicts a scene of 1960s London's East End. Bailey featured a London cityscape that has undergone extensive changes that no longer exists today in these photographs. It is also a piece of work that Bailey did before he hit global fame.
How does the Collection works?
There will be 10 full Collections available, with 11 bottles per collection. These will be available only though private appointments. After the initial offering, single bottles will be released from March 2021. Each collection features 11 label designs, all hand-signed by David Bailey. 10 label designs are in black and white images while the last one is an exclusive colour image. The coloured image is available only as part of the 10 Collections of 11 bottles each. Every bottle is hand-numbered.
The Whisky Itself…
Ladyburn 1966 Edition One is a 54 years old whisky matured in a single sherry butt. The whisky offers dry fruit sweetness, spicy notes and intense oak tannins. The high age also results in a darker and richer whisky in terms of colour. Brian Kinsman, the current Master Blender and Malt Master shared his tasting notes during the launch. In case you are wondering, we did not taste the whisky even though it would be a privilege if we do!
The distiller responsible for the distillation was Hamish Robertson (WG&S's 4th Master Distiller). The person who chose the single cask is, of course, Brian Kinsman as he is the one who has overseen its slow maturation process.
A note about WG&S' private sales division
Jonathan Driver is the Managing Director for the division. We understood that less than 200 rare casks remain in the custodianship of the Grant family.
Beyond Ladyburn, WG&S obviously have other rare stocks. The private sales division offers clients a curated portfolio. There are exceptionally rare expressions and customisation. Its products and services include private cask bottlings, rare and collectable whiskies and limited edition collections. Private clients also have privileged access (upon request) to the distilleries at Dufftown, the warehouses and historic family homes.
How to purchase
Anyone who is keen to find out more about the Ladyburn 1966 Edition One Collection can contact James Ting at James.Ting@wgrant.com for prices and all related questions to shipping and delivery.
Like what you have just read?
http://www.whiskygeeks.sg/wp-content/uploads/2021/01/Screenshot-2021-01-20-at-20.09.35.png
226
400
Zerlina Zhuang
http://www.whiskygeeks.sg/wp-content/uploads/2017/07/logo_WhiskyGeeks-300x138.png
Zerlina Zhuang
2021-01-21 16:20:40
2021-01-22 21:16:09
Ladyburn 1966 Edition One – Whisky from a Bygone Era