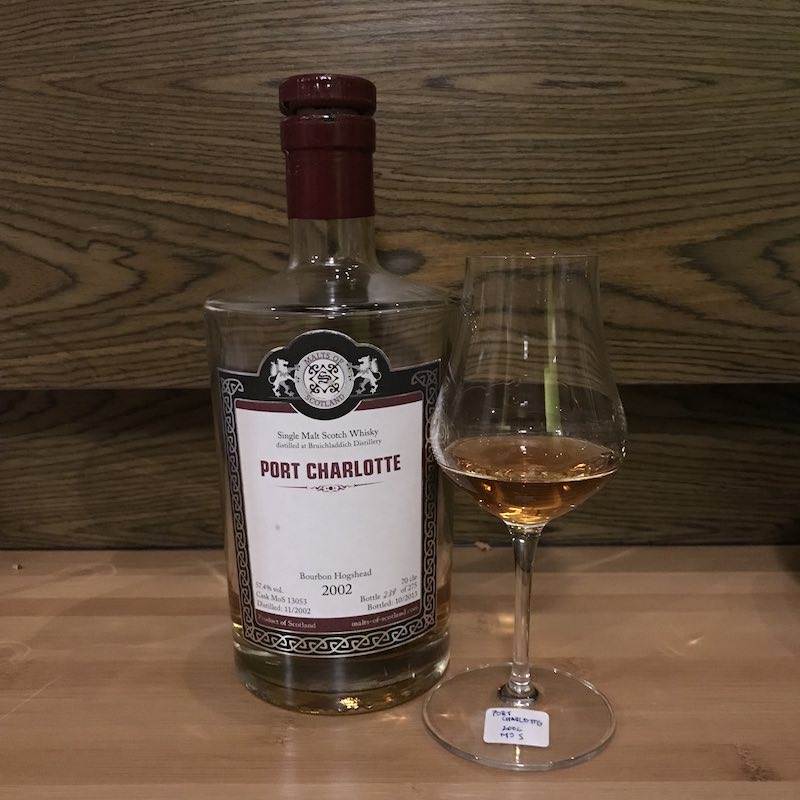 Malts of Scotland (MoS) is probably not a stranger to you if you are a fan of independent bottlers. MoS is a consistent award winner as an independent bottler and has won many different awards across the whisky industry. The most prestigious of all awards is likely the "Independent bottler of the year".
Thomas Ewers heads MoS and earns the reputation of a "whisky talent" at a young age. His first foray into whisky was in 2003 when he had his first single malt. The second dram of a 10-year-old Aberlour sealed his fate as a whisky lover and eventually an independent bottler.
The bottle under review today is a Port Charlotte distilled in 2002 and bottled in 2013. Matured in a bourbon hogshead, it has been known to give rise to tasting notes such as "baby vomit", "rotten milk" and "spoiled milk" at the bar where we had this.
With such a fascinating reputation, let us get started to see if we can find the "baby vomit".
Tasting Notes:
Colour: Amber
ABV: 57.4%
Nose: Smokey and sweet. Dark, dried red fruits with smoke. It is gorgeous indeed. The nose boasts of notes typical of a sherry cask, but this is a bourbon hogshead! Isn't that amazing? Raisins, dried figs, stone fruits are all presented in the nose. Sweet and beautiful indeed! (17/20)
Palate: Sweet and flavourful, with smoke in the background developing beautifully as we drink. Raisins, sultanas, figs and cranberries combined in a sweet and fruity palate. Hints of raspberries are detected in the back of the throat. That sourness from the raspberries may be the answer to the "baby vomit" and "spoiled milk"! (18/20)
Finish: Long and smokey! Cranberries and raisins linger forever and ever. Gets a little dry after a while and almost feel like an elegant, old red wine. (18/20)
Body: This is balanced brilliantly. The smoke is consistent from the nose to the finish. Add the raisins and dark fruits, and you get a divine drink! (36/40)
Total Score: 89 points
Comments:
Geek Flora: Well, well, well, this is an exciting tasting of a Port Charlotte. I like the uniqueness of this whisky, and it is an excellent example of how independent bottlers can make a whisky better.
Geek Choc: I must be honest and say that I am in the camp of those who think of "baby vomit" when I tried this PC. Not my favourite for sure. 
Like what you have just read?
http://www.whiskygeeks.sg/wp-content/uploads/2018/03/Port-Charlotte-2002.jpg
800
800
Zerlina Zhuang
http://www.whiskygeeks.sg/wp-content/uploads/2017/07/logo_WhiskyGeeks-300x138.png
Zerlina Zhuang
2018-04-03 10:47:01
2018-04-03 10:47:01
Whisky Review #83 – Port Charlotte 2002 – MoS