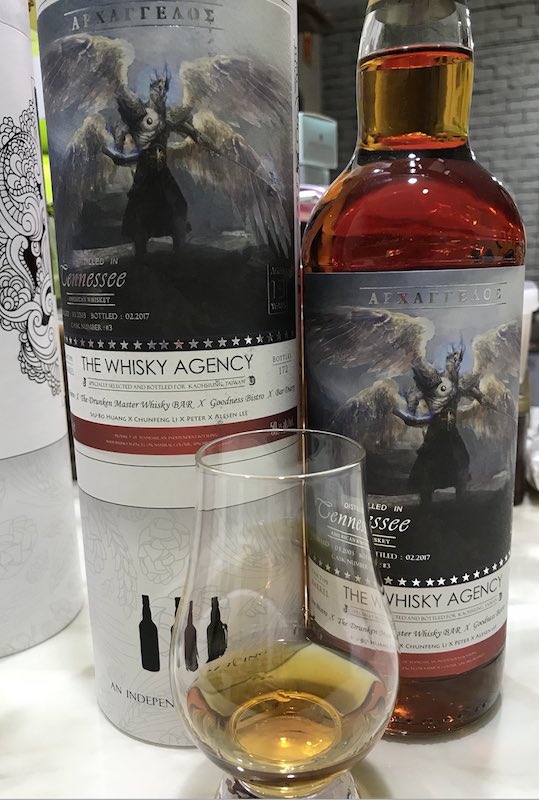 American Whiskey is a class of its own with Bourbon, Tennessee and Rye playing the most significant share. While we have shared some American whiskey previously, we were not a big fan of it due to the overwhelming sweetness that we tend to get from corn distillate. However, we tried this bottle of Tennessee recently, and it was so good that we were taken aback! Is that even Tennessee?! It tasted like a sherry-matured Scotch!
Brief History of the bottle
The Tennessee we have here is an independent bottling by The Whisky Agency (TWA) for Kaohsiung, Taiwan. It was a joint-bottling by four different bars – The Drunken Master Whisky Bar (TDM), Inn Bistro, Goodness Bistro and Bar Diary. Each bar owner has tasted and agreed to bottle this whiskey for their bars. We got this from TDM, and it proved to be a right thing to do!
What is Tennessee?
Tennessee whiskey is different from Bourbons due to a particular step within the whiskey making process. While both liquid comes from at least 51% corn, Tennessee whiskey goes through an additional phase before the whiskey makes it to the barrel for maturation. Tennessee makers steep or filter the new whiskey in charcoal chips.
All Tennessee whiskey makers make their whiskey slightly differently. This particular bottle comes from Jack Daniel's (JD), so the method is as follows:
Soak Sugar Maple Wood in 140 proof Jack Daniel's
Set the wood on fire and reduced it to charcoal
Ground the charcoal to bean-sized pellets
Pour new whiskey through the pellets and placed into barrels.
Distilled in 2003, TWA bottled this JD in 2017. It is labelled as a 13-year-old as it did not spend the full 14th year before bottling. In a technical sense, you can think of this bottle as a 13.5-year-old.
Now that you have a better understanding of this bottle, let's deep dive into the tasting notes!
Tasting Notes
Colour: Burnt Gold/Amber
ABV: 50.7%
Nose: Sweet caramel hits immediately with light spice hiding in the background. On the second sniff, we detect some sweet cream, almost like an ice-cream soda from F&N. Hints of preserved red dates and orange peels appear after a few minutes, enhancing the sweet nose to the next level. (19/20)
Palate: Sweet sherry and caramel come rushing in before a sharp spice punches the palate and disappears as quickly as it appears. As we hold the liquid in the mouth, sweet fruitiness of red dates and cherries coats the palate beautifully. The spice hits again as we swallow, creating a warm and pleasant burn down the throat. Then, a surprise happens! A burst of cranberry juice coats the whole mouth, bringing the berry sweetness to a grand ending! (19/20)
Finish: It has a relatively short finish with sweet red fruits, warm spice and a hint of cranberry juice. (17/20)
Body: Oh my, what a beautiful dram! The superb nose and palate are presented so exceptionally, and the sweetness is not overwhelming. An untypical Tennessee for sure and one that we will want to keep drinking. Although we are slightly disappointed with the shorter than expected finish, it was good till the end! (37/40)
Total Score: 92/100
Comments:
Geek Flora: This is the BEST Tennessee that I have ever tried so far! It gives me such a warm and happy feeling inside after drinking it! I will be sorry when we finish this bottle, but this is one whisky that is worth sharing!
Geek Choc: This has to be the most impressive whiskey I have ever tried. My attempts at American whiskey were few as I find them far too sweet for my liking. This Tennessee, however, hits me in all the right places! 
Like what you have just read?
http://www.whiskygeeks.sg/wp-content/uploads/2018/02/Tennessee-JD-TWA-small.jpg
800
539
Zerlina Zhuang
http://www.whiskygeeks.sg/wp-content/uploads/2017/07/logo_WhiskyGeeks-300x138.png
Zerlina Zhuang
2018-02-20 16:35:52
2018-02-20 16:35:52
Whiskey Review #75 – Tennessee 2003 (JD)