Have you heard that The Malt Affair's TMA Vol. 2 is coming up in early May? If you have not, please listen up! The upcoming event is a bi-annual whisky event where whisky lovers gather in one place to enjoy whiskies by the dram. This exciting experience is a follow-up to last year's successful TMA Vol. 1, where offers of rare and old whiskies sent whisky lovers into a frenzy. Not to be pushed around, impressive modern bottles also strutted their stuff in TMA Vol. 1.
WhiskyGeeks attended TMA Vol. 1 held last year during November, and they impressed us with more than a couple of great whiskies. Some of the selections that we love were the Laphroaig 10-year-old Bonfanti Import (short label), the Rosebank 20-year-old Zenith Import, the Port Ellen 1982 Malts of Scotland, and the Miyagikyo 18-year-old Whisky Live Tokyo 2010.
TMA Vol. 2
So, when we know that TMA Vol 2 is coming up, we are ready for yet another challenge of old and rare whiskies! To prove that we are going to this event, here's a picture of the tickets that we bought!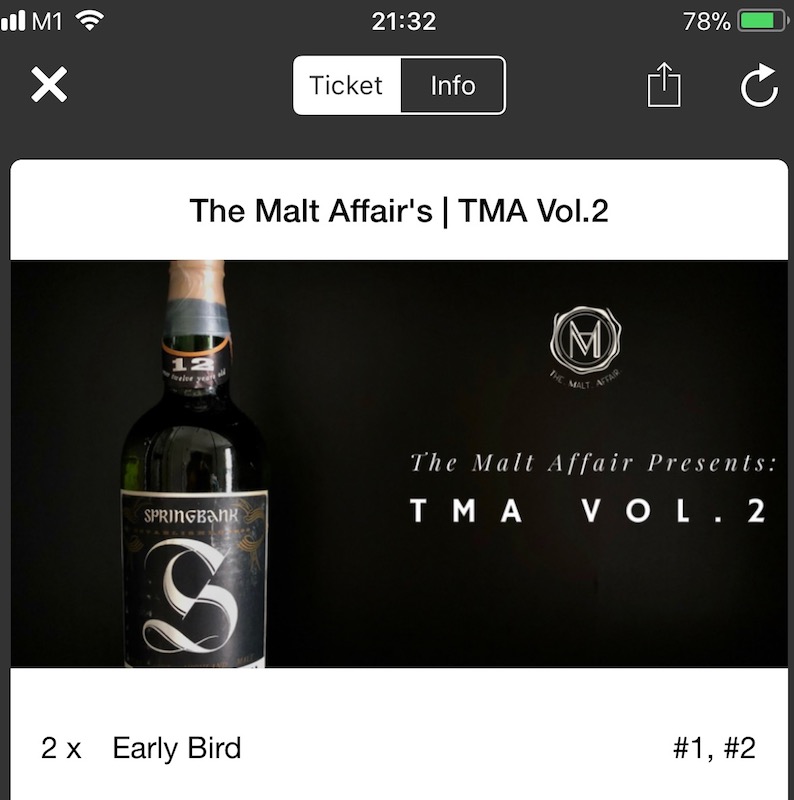 What to Expect at TMA Vol. 2
The news is out that there is a rare Springbank 12-year-old (Black Label) bottled by Cadenhead and a Macallan 1958 (gasps!) Campbell Hope & Kings 1970s White Metal Cap representing Campbeltown and Speyside respectively. There are also a couple of excellent Laphroiags and a Caol Ila 18-year-old by Sestante Import representing Islay. To top things off, there are a few bottles of old Karuizawas and the Hanyu Card Series waiting for you too!
For the less initiated whisky fans, do not be intimated! If you are not ready to drink these old whiskies yet (trust me, they are like self-poisons), you can find more accessible drams such as the Balvenie Single Barrel 15-year-old and a Bruichladdich 'The Laddie Ten' Second Edition. If you are feeling just a little adventurous, why not try an affordable closed distillery whisky – Littlemill? On offer at TMA Vol. 2 are three expressions for your picking. Personally, I love the expression bottled by The Perfect Dram!
You can find the list of drams here.
How to Buy your Tickets?
If you have yet to buy tickets for the event, head over to Peatix and grab yours now. Early bird tickets are now sold out, so grab the standard tickets at $30 each before they are gone too! Each ticket gives you entry to TMA Vol. 2 and also includes a Glencairn tasting glass, a 2cl (20ml) glass sample container and a $10 Downtown Gallery voucher! Do note that you can bring additional sample bottles if you are looking to buy some whiskies home instead of drinking them all at the event.
We hope to see you there at The Malt Affair's TMA Vol. 2! If you happen to see us Geeks at the event, pop over to say hi!
Like what you have just read?
http://www.whiskygeeks.sg/wp-content/uploads/2018/03/TMA-Vol.-2-banner.jpg
730
895
Zerlina Zhuang
http://www.whiskygeeks.sg/wp-content/uploads/2017/07/logo_WhiskyGeeks-300x138.png
Zerlina Zhuang
2018-04-15 15:18:11
2018-04-15 15:18:11
Whisky Event: The Malt Affair's TMA Vol. 2