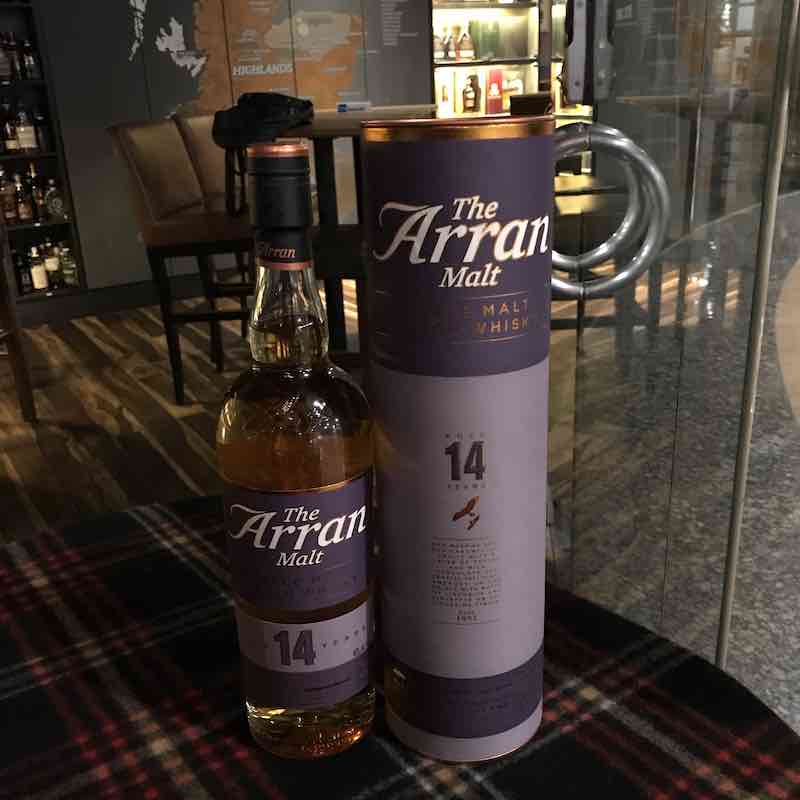 Arran distillery needs no more introduction after our post of its history and another one on the event at Quaich Bar. The object of our review today is the Arran 14-year-old. Dubbed as the perfect "go-to" dram for a whisky lover who wants to upgrade from the 10-year-old and not yet wanting to advance to the 18-year-old, this whisky here is a beautiful expression.
Arran 14-year-old is made up of whiskies matured in 60% ex-sherry casks and 40% ex-bourbon casks. Therefore, when compared to the 10-year-old, it is not as fruity but sweeter due to the sherry influence.
Let's check out the review now.
Tasting Notes:
Colour: Copper Gold
ABV: 46%
Nose: Sweet oak mixed with dried fruits, vanilla and toffee, come up front when we first nose it. The spice hides in the background. When we add a little water, some sea salt tang appears alongside caramelised fruits notes. (16/20)
Palate: Sweet vanilla and honey coat the palate with notes of green apples and pears. Charred oak is also prominent with spice at the back of the tongue. Interestingly, the spice disappears, and the honey notes become more noticeable after airing the whisky. With water, the spice comes a little stronger to the forefront, but the vanilla and honey sweetness quickly overcome it. (16/20)
Finish: The finish is reasonably long with dried fruits and vanilla notes. Some honey is also detected at the end. (15/20)
Body: The balance for the 14-year-old is slightly better than the 10-year-old. It is still somewhat singular in its profile but an upgrade from the 10-year-old. (30/40)
Total Score: 77/100
Comments:
Geek Flora: "The 14-year-old is slightly more complex as compared to the 10-year-old. While I still tend to lean towards the simple 10-year-old for my daily dram, this 14-year-old is a potential upgrade for me after I finished the 10-year-old bottle." 
Geek Choc: "It is singular, but I kinda like it. The higher sherry influence in the 14-year-old appeals to me as the sweetness of the dried fruits makes it more interesting." 
Like what you have just read?
http://www.whiskygeeks.sg/wp-content/uploads/2017/11/Arran-14-YO-small.jpg
800
800
Zerlina Zhuang
http://www.whiskygeeks.sg/wp-content/uploads/2017/07/logo_WhiskyGeeks-300x138.png
Zerlina Zhuang
2017-11-14 15:16:40
2018-01-26 16:19:39
Whisky Review #67: Arran 14-Year-Old