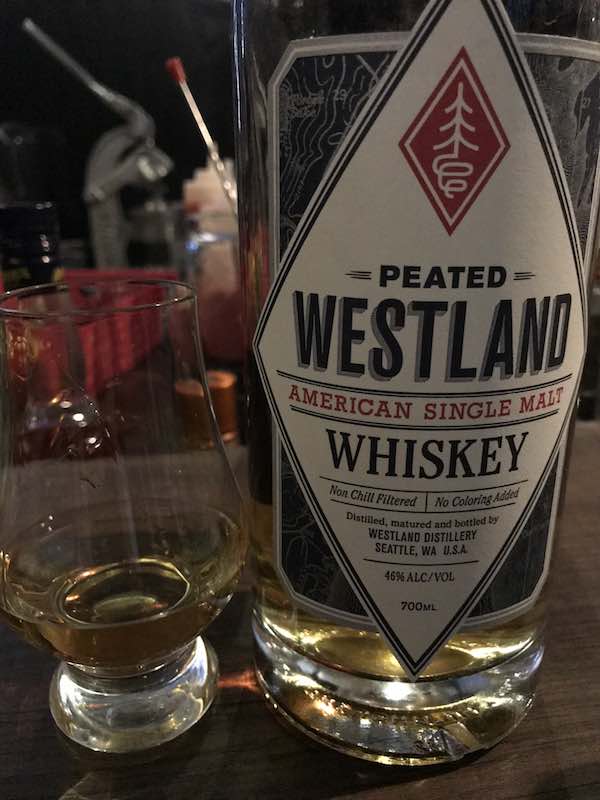 This is the other American whiskey that we tried at the Secret Mermaid. It is Geek's Choc's choice as he does love his peat. It was also a safe choice as he had tried another expression from Westland previously at The Wall SG.
This expression is a Westland single malt peated whiskey. Being a non-chill-filtered whiskey adds creditability to it, and we thought that it was indeed a safe dram to order. Let's see if we are right!
Tasting Notes:
Colour: Gold
ABV: 46%
Nose: Sweet, ripe pears, bananas, peat smoke and a hint of cinnamon spice hit the nose immediately and remains constant throughout. It almost reminds us of a Scotch! It is charming to me, and I could nose it all day. However, it is one-dimensional and proves to be somewhat unexciting. (16/20)
Palate: Sweet pears and light banana notes are prominent as the liquid stays in the mouth. A whiff of smoke passes in the back of the throat as the liquid goes down, and disappears immediately once we swallow. Again, it remains us of a young and light, ex-bourbon matured Scotch. The bite of the spirit is not sharp, but evident in the palate. (16/20)
Finish: It has a medium finish with lots of oak and subtle sweetness on the side. (15/20)
Body: It could be more balanced if the finish does not disappoint. However, the finish is lacking, and this dram becomes one-dimensional and straightforward. Gentle on the nose and palate, it is a good starting dram or an introduction to peat for a non-peat drinker. I also find it too much like a Scotch, even though it is an American whiskey. So, while I would like to give it a higher score, I hold back because I think it can be better in its category as an American whiskey.  (31/40)
Total Score: 78/100
Comments:
Geek Flora: "I like this whiskey! It is almost Scotch-like, and it has the usual flavours that I like in my peaty whisky. However, I need to remain myself that it is an American whiskey – a category that is supposed to give more sweetness, more flavours. This is a very mellow dram. I am torn between giving it a higher score and the score I eventually gave because I think that while bourbon drinkers who love the strong flavours will find this interesting, it will not be a dram they will return to very often. On the other hand, Scotch drinkers will like this but still will return to Scotch."
Geek Choc: "It is a whiskey that I don't mind drinking at all. Too much like a Scotch, but it can be a refreshing change especially if the cost for a bottle is lower than a typical Scotch. However, just like what Flora said, I would eventually still return to my favourite Scotch." 
Like what you have just read?
http://www.whiskygeeks.sg/wp-content/uploads/2018/08/Westland-Peated-Whiskey.jpg
800
600
Zerlina Zhuang
http://www.whiskygeeks.sg/wp-content/uploads/2017/07/logo_WhiskyGeeks-300x138.png
Zerlina Zhuang
2018-08-13 00:09:20
2018-08-13 00:09:20
Whisky Review #99 – Westland Peated Single Malt