Whisky dinners – you probably seen one before or maybe even gone for one. In those dinners, whisky or some other quality spirit would be paired with a dish. With many thanks to Spirits Castle, I got to experience my first Taiwanese-style whisky dinner! Taiwanese style whisky dinners separate whisky and dinner, does not attempt to pair it. This allows for dishes that don't usually go with Whisky, like spicy food or strongly scented ones. In this tasting, Tony, owner of the Taiwan independent bottler HNWS, has graced us with his presence in a befitting venue – Sichuan Douhua, a restaurant on the 60th floor of the UOB building with a glorious view! So, just like whisky dinners in Taiwan, we started with 5 drams from the HNWS. To the reviews! -batman transition-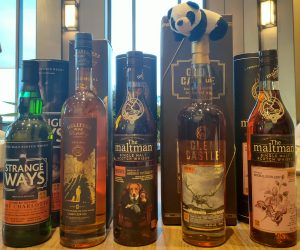 Imperial 23yo 1995 Sherry Finish
Imperial is a closed distillery, and most casks are under the ownership of Pernod Ricard. While most Imperials I have come across are bourbon matured, not many of them have undergone sherry maturation. This bottle features a sherry finished Imperial, and it is quite a looker. But it's not just all looks, the nose and palate are both welcoming and inviting. The dram even showed some prominent character development in the next 20 minutes of breathing.
Nose: An initial arrival of a sherry bomb greets me as the first dram of the evening — notes of raisins, cinnamon, black pepper and a distinct savoury note reminiscent of Oloroso sherry. The hints of strawberries and walnut nuttiness were incredible too. With water, the raisin notes were softer. However, the prior ex-bourbon maturation shines through with notes of peaches puree, a soft orange note, confectionary sweetness and mango.
Palate: The arrival was a good note of cinnamon spice along with strawberry jam, cranberry, gooseberries, black cherries and raisins. With water, the initial arrival was more chocolatey with the mid-palate still dominated by strawberry jam.
Finish: A beautiful cinnamon and strawberry finish with floral notes and black cherries. With water, notes of chocolates, sour plums and lemon zest appear in that finish.
Islay 29yo 1989
Although the distillery is not mentioned in the name, this bottle has a label depicting a Scottish-style dragon flying over the Laphroaig distillery. It's not often that I come across an old Laphroaig and boy is this fascinating!
Nose: The dram began with soft medicinal notes and coastal brine aromas. Notes of heather, musk, vanilla and honey were also present. Despite its age, the smoke is still remarkably vibrant and lively. With water, this Laphroaig becomes sweeter, quite like vanilla sponge cake, with notes of musk, leather, earth and notes of damp bonfire ash the morning after.
Palate: As expected, this arrival was as soft as an old islay whisky can be, with notes of Laphroaig's signature medicinal TCP notes, sweet oak, and soft peaches. With water, the musky leather notes became more prominent, alongside notes of coastal brine.
Finish: The finish was a sweet honey vanilla finish along with earthy and medicinal notes. With water, the earthy, smoky and vegetal Lapsang Souchong tea notes become more evident in the finish.
Ardbeg 10yo 2008 PX Finish
This dram is a Peated sherry bomb with a mocha vibe on the colour, the nose and the palate! This is most likely due to the strong oak influence in the dram. Yet, the Ardbeg spirit character stands strong with tones of mineral notes alongside the heavier oak influence
Nose: The initial arrive with a peated, smoky bang, alongside notes of smoked salmon, seafood, sulphur, floral notes and red plums. With water, the mineral iodine character of Ardbeg shines through.
Palate: Similar to the nose, the palate starts with the same big show stopper of smoked bacon, strong cinnamon spice, along with the mineral iodine note and coastal brine. With water, a gunpowder note shines through with dark chocolate and roast coffee bitterness.
Finish: This gives a robust smoky finish with smoked meat, sulphur note, mineral note and. With water, the extended finish comes with iodine notes and dark chocolate.
Hellyers Road 16yo 2002
Hellyers Road is a Tasmanian whisky distillery with a unique spirit character. The bottle almost looks identical compared to an official bottling if I did not look carefully enough. It comes with a certificate of authenticity, as well. At a whopping 64.5%, this spirit-driven dram tastes especially good for its strength.
Nose: T'was a spirity arrival of tea bags and hay. Unique notes of passionfruit appear with notes of vanilla, honey, cinnamon and brioche. With water added, the honey note became sweeter with notes of green guava, honeydew, passionfruit, peaches and a nice confectionary note. 
Palate: The arrival did not feel like 64.5%, and I was immediately greeted with notes of green guava, dry tea, floral notes and a vegetal hay note. With water, there were notes of peaches, Japanese honeydew (those from DonkiDonki), and green guava; with the tea spirit character being very prominent throughout the palate.
Finish: the finish was vanilla, slightly smoky, and earthy. With water, the finish is a lot longer with the aromatic tea note.
Port Charlotte 10yo 2008 Madeira Cask
Bruichladdich is one of my favourite distilleries, and I love their whiskies for its consistent quality. This dram was somewhat different. This PC started with notes of creamy feta cheese. Along with the fruitiness of the Madeira cask and the sweetness of the intrinsic nature from Bruichladdich still.
Nose: This was surprising. I was not prepared at all to smell cream cheese in a dram. It was something between cream cheese and greek feta cheese. The spirit character of Port Charlotte shines through with marshmallow sweetness and lovely peat smoke. With water, the cheesy note became more of fruit yoghurt with notes of unripe green apples.
Palate: The arrival was cheesy as well, with notes of red cheddar and greek feta alongside peat smoke. With water, the dram showed more of the sweetness from its spirit character with more fruitiness.
Finish: The finish is just as unique as the nose and palate, with notes of dry cranberries and aromatic vegetal notes. With water, brings a longer, earthy peat smoke finish.
Dinner
After 5 drams, our appetite has built up. Now comes the dinner, which was a lot more satisfying after drinks!
This 5-course meal was terrific, from the tea to the main course to the dessert! Check it out!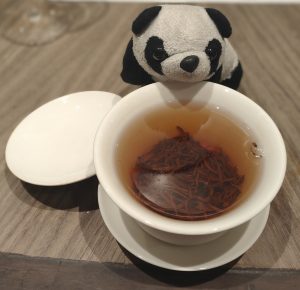 There was a professional pouring hot water into the teacup that allowed the tea inside to swirl and mix! That's form and function!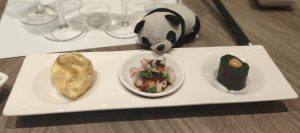 The trio combo was amazing. These three items on the plate contained a wide plethora of flavours, which showcases how skilled the chefs are at balancing flavours.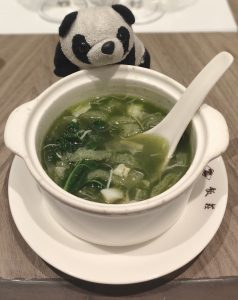 This braised lobster soup with bamboo pith and kale is probably the calm before the storm.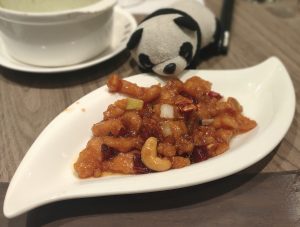 This is the start of the mala storm. Lovely stir-fried chicken with cashew nuts and dried chill had the familiar numbing spiciness.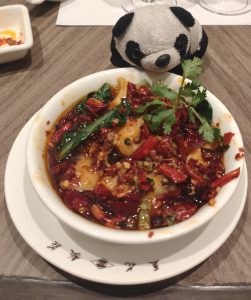 This bowl of sliced fish in Sichuan Pepper sauce was topped with loads of chilli.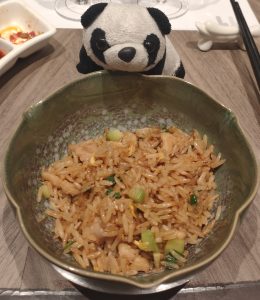 This fragrant rice with diced chicken helped me cool down from the last two mala dishes!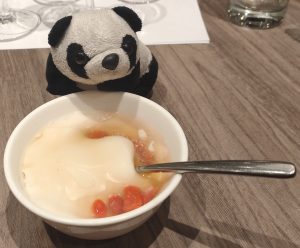 The dessert was lovely, but a suggestion by Zerlina to add some whisky inside did improve it!
This has been a fantastic first visit to the Sichuan DouHua on the 60th floor of the UOB building! Special thanks to Tony for coming all the way down from Taiwan, and Spirits Castle for this invite! 
Like what you have just read?
https://www.whiskygeeks.sg/wp-content/uploads/2019/07/IMG20190628183006-e1563340910152.jpg
650
780
Hong Fu Teo
http://www.whiskygeeks.sg/wp-content/uploads/2017/07/logo_WhiskyGeeks-300x138.png
Hong Fu Teo
2019-07-31 19:03:48
2019-07-31 19:04:40
Taiwanese Style Whisky Dinner at SiChuan DouHua with Tony from HNWS