The first big tasting of Dràm Mòr in Singapore and their second ever release of bottles in Autumn of 2020! Dràm Mòr is an Independent Bottler in Scotland that is owned by a husband-wife duo, Kenny and Viktorija.
Many of the bottles in this second release were finished in fortified wine or wine casks for 4 months! This decision for a short duration finish was not unfounded as well! Kenny sought the advice of Whisky legend Jim McEwan and told Kenny to watch closely over 1st fill wine casks. This is most likely due to the spicy notes the active wine cask might impart on the whisky if it aged any longer.
Glen Garioch 8yo 2011 (Cask #2697) 55%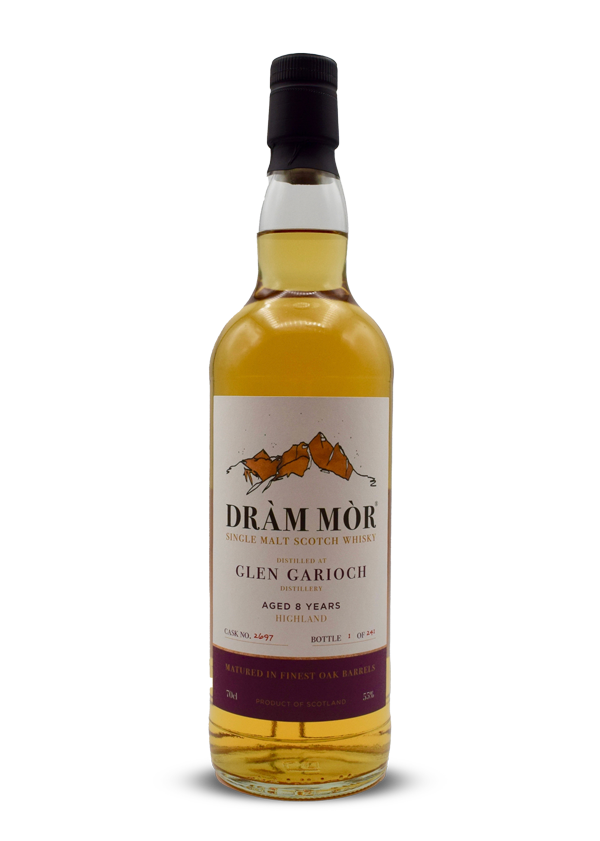 We started the night with a full-term refill bourbon. There was a time I used to find full-term bourbon maturation like from Cadenhead to be boring. What a fool I was #cringe. What I know now is that a light bourbon maturation can allow the spirit character to develop and shine through!
For this Glen Garioch, I'm glad it did! I get the herbal orange peel that I associated with the Official Bottlings of Glen Garioch, but with so much more characteristics! There's a toasted cereal note, peaches, a hint of salinity, with a mouthfeel you can chew on! It's a lovely anytime kind of dram!
Aberlour 7yo 2012 (#F800914) 54%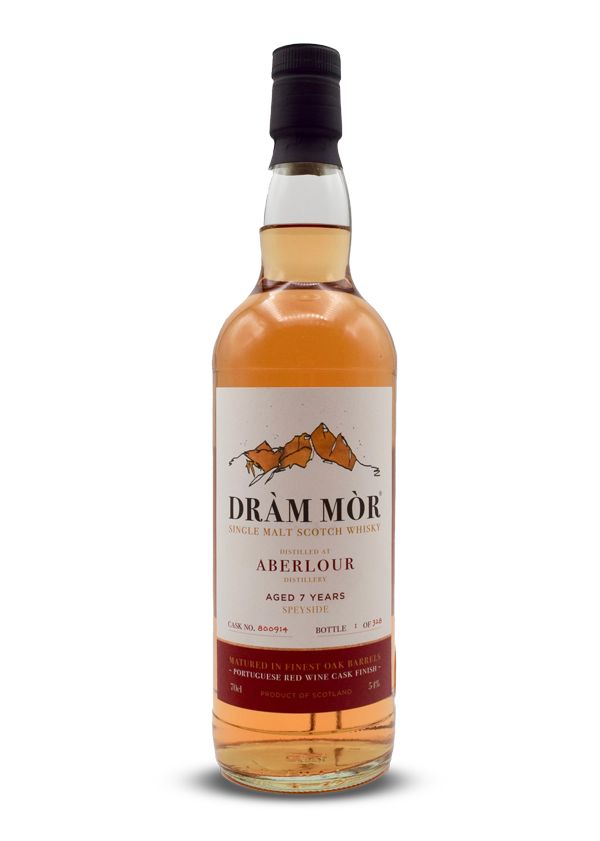 This Aberlour spent 7 and a half years in refill bourbon with a 4 month dry Madeira finish. The Aberlour A'bunadh series inspired Dràm Mòr to do a young cask strength Aberlour! This decision for a short finish was an excellent one. In 4 months, the influence of the wine is clearly much stronger, with only a touch of spice from the oak. This works well because the strawberry jam preserve notes of the Aberlour spirit character works with the dry cranberry notes, pepper and raspberries, along with the honey and floral notes from the prior bourbon maturation.
Glenrothes 9yo 2011 (#2850)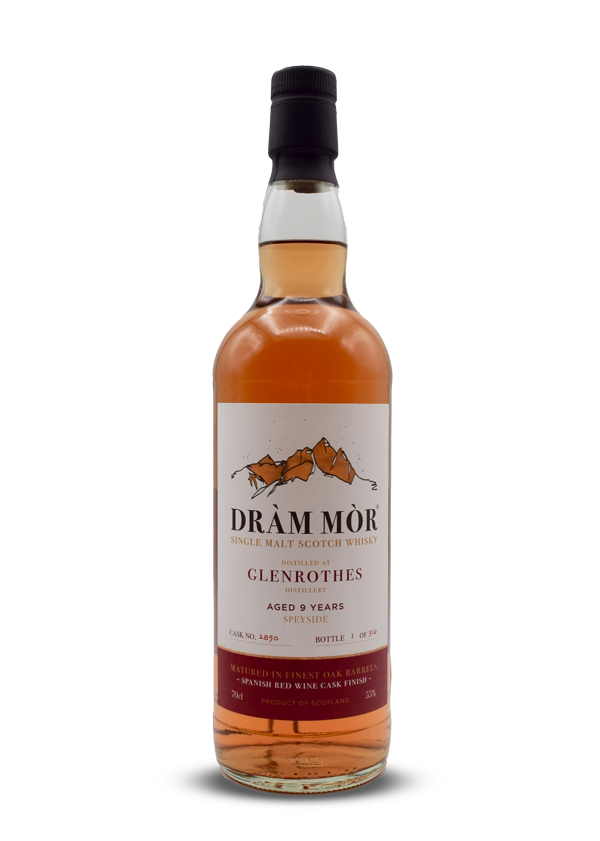 One of two Glenrothes in this Autumn release, this spent 8 years and 8 months in refill bourbon, before finishing in Spanish Red Wine casks for 4 months. This was a beautiful balance between the influence of the red wine and the European oak. Even the folks at Glenrothes distillery gave Kenny the stamp of approval!
In my personal opinion and preference, this dram probably needs some time to open up. Initial top notes of gunpowder which will fade away with time, so if you love your sulphur notes, you might not want to wait. This Glenrothes offers notes of honey, a whiff of chocolate, with oranges, red berries, figs and nuttiness!
Glenrothes 9yo 2011 (#2851)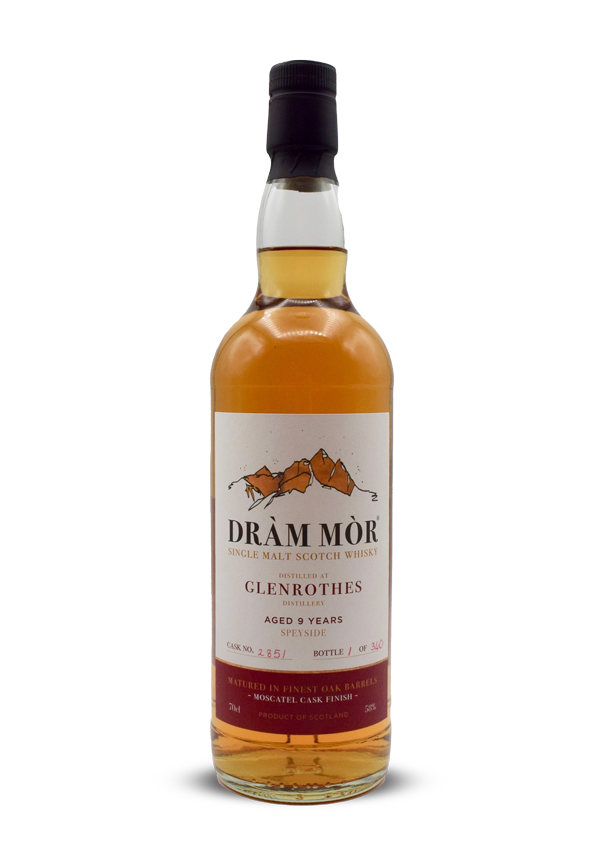 This Glenrothes spent 8 years and 8 months in refill bourbon, before finishing in Moscatel Wine casks for 4 months. If it feels like Déjà vu, that's because both Glenrothes are sister casks! Moscatel Wine casks are not as popular in whisky, but this is a damn good example! People who know me know that I do not particularly enjoy the spirit character of Glenrothes, but this dram is probably the first young Glenrothes that I have thoroughly enjoyed!
This dram offers golden pears, with honey and vanilla sweetness coming from the bourbon maturation. Moreover, the wine cask influence is very nuanced, with hints of toasted nuts, tart apples and a whiff of Nutella! One of the participants in the tasting even got Jasmine flowers! This is definitely a beautiful dessert dram.
Tomintoul 15yo 2005 (#32)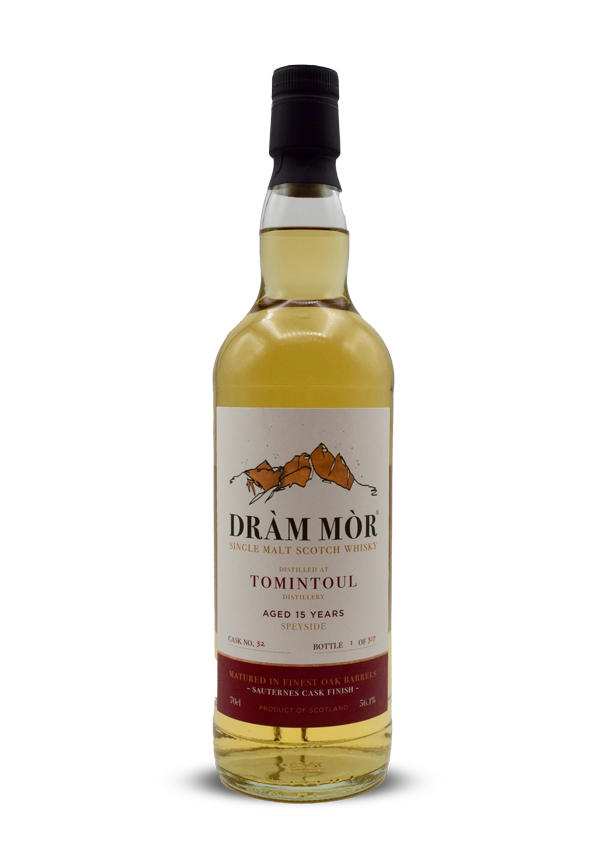 This gentle dram spent 15 years and 4 months in a rather shy refill sherry butt, and 4 months in a 1st fill Sauternes Wine Cask! These 15 years in the refill sherry butt gave a gentle maturation, and most importantly, it cultivated the gentle spirit character of the Tomintoul. Distilleries Director of Angus Dundee, Robert Flemming, who oversees Tomintoul and Glencadam, loved this dram when he asked Kenny for a sample of this! If the people who make this whisky liked it, then you know Dràm Mòr did Tomintoul right!
This gentle dram offer notes of sugary sweetness, freshly cut grass in spring, pears, white raisins, tart apples and pears, notes of a buttery pie crust and hints of salinity.
In this Autumn release, Dràm Mòr shows that flavourful whisky doesn't necessarily need to be peated, or heavily sherried or old. I also do enjoy their stance on not chill filtering and not adding colour! If you wish to purchase these bottles, do give Spirits Castle a visit, and if you wish to find out more about Dràm Mòr and their latest December 2020 Christmas release, check it out here!
https://www.whiskygeeks.sg/wp-content/uploads/2020/12/Screenshot-2020-12-13-at-8.56.27-AM.png
828
1300
Hong Fu Teo
http://www.whiskygeeks.sg/wp-content/uploads/2017/07/logo_WhiskyGeeks-300x138.png
Hong Fu Teo
2020-12-13 08:59:57
2021-01-04 15:59:35
Dram on, Dràm Mòr