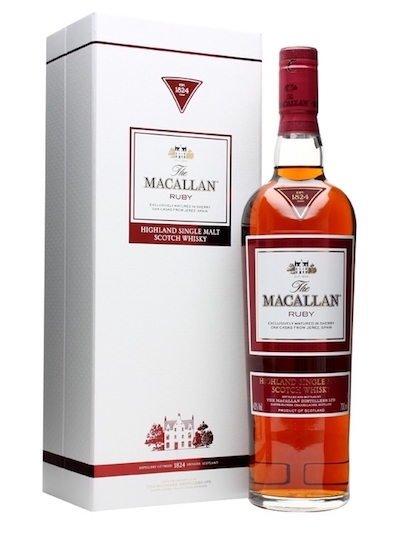 Source
The Macallan Ruby is the last of the four whiskies in the 1824 Series and is considered the crown jewel of the lot. Having the richest and deepest colour in the range, the Ruby is majestic to behold. Matured and aged in the finest sherry casks, its appearance is natural; the colour and flavours are drawn directly from the casks.
Tasting Notes:
Colour: The darkest and richest red that a whisky can give, the Ruby is almost dark mahogany as we hold it up to the light.
ABV: 43%
Nose: We get strong European oak almost immediately before hints of rich, dried fruits and a trickle of treacle creep in to tickle our noses. The subtle sweetness of the dried fruits does not last and the oak reasserts itself quickly. It is burnished and matured, something that Geek Spice and Geek Choc appreciate. (15 points)
Palate: Ginger, nutmeg and resin rush in the moment the liquid touches the mouth, giving a rather sharp taste. Orange, sultana and raisins take over with their subtle sweetness to soften the taste, before we taste a subtle hint of clove before it is gone. The final winner is oak as we swallow. (15 points)
Body: A balanced whisky that deliver what the nose promised. Definitely a more assertive whisky than Macallan Sienna, the balanced body takes its time to reassert the strong oak character. (30 points)
Finish: A long and lingering finish that is reflective of the palate. Strong and definitive; suitable for those who loves a long finish. (16 points)
Total Grade: 76 points
Like what you have just read?
https://www.whiskygeeks.sg/wp-content/uploads/2017/07/Macallan_1824_Series_Ruby.jpg
533
400
Zerlina Zhuang
http://www.whiskygeeks.sg/wp-content/uploads/2017/07/logo_WhiskyGeeks-300x138.png
Zerlina Zhuang
2017-07-20 14:52:32
2017-08-19 22:17:28
Whisky Review #04 – The Macallan Ruby (NAS)