Food & Hotel Asia 2018 + ProWine Asia 2018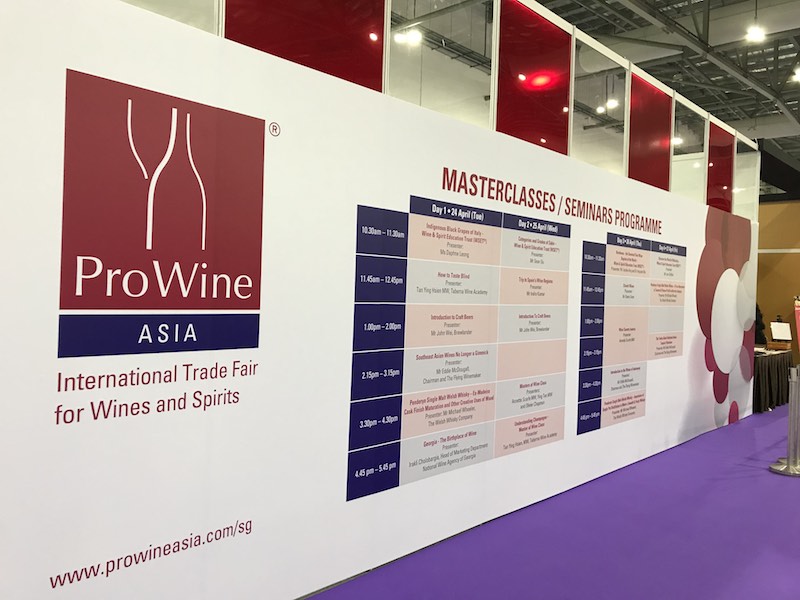 The exciting. bi-yearly Food and Hotel Asia 2018 (FHA2018) and ProWine Asia 2018 (PWA2018) flashed past us last week. Held from Tuesday, 24 May to Friday 27 May 2018 at two locations – Singapore Expo and Suntec City, the event closed as a great success! Many exhibitors are going home happy with lots of information to digest while visitors to the event are now aware of the fantastic offers that the exhibitors can offer.
We were invited to both shows as part of the Press and enjoyed our time spent there. While there were some hiccups, such as not getting updated information on where to collect our passes and messing up the timing for specific interviews with esteemed guests, the rest of our time went well.
Tuesday, 24 May 2018
Geek Flora and Choc started our first day with a masterclass with Penderyn Distillery's ambassador, Michael Wheeler in the afternoon.
Mike (as he calls himself) led us in the exploration of how casks will influence whisky during maturation. It was informational because Penderyn uses a different distillation method and a handful of different casks.
Their house style is ex-bourbon (using Buffalo Trace's bourbon casks) before finishing in Madeira barriques. There are also sherry, port and peated expressions. After the masterclass, we head over to the Penderyn booth, where Mike and Dr Bianchi treated us to more excellent drams from the distillery.
There are two core ranges of whiskies from Penderyn Distillery, as well as cask strengths and their Iconic series. You can find out more about the whiskies here. If you must know, we think that the Sherrywood is quite similar to a cross between the Glendronach and the Macallan while the Portwood is comparable to Balvenie 12 Years Old.
Thursday, 26 May 2018
Geek Flora went back alone on Thursday. This time, she took time to explore Hall 7 to Hall 10 of Singapore Expo. Starting from Hall 7, she made her way around the exhibits to check out almost every one of the exhibitors there.
The USA had an impressive number of booths at Hall 7, which prompted Flora to walk through the aisles. She struck gold very quickly there. Here's her gold – American Bourbon and Rye from Golden, Colorado, United States.
State 38
Flora did not pass up the chance to try some bourbon and rye, and so, she got into action very quickly. The bourbon is made up of 60% corn, 10% rye, 10% wheat and 10% of heavily malted barley (read: charred). The result is a creamy bourbon with roasted coffee notes and dark chocolates. The rye is made up of 100% rye and boasts of sweet notes and slight dryness. It is not spicy, which makes it extra pleasant to drink. Both whiskies are perfect for chilling!
Just when Flora thought it was over, the exhibitor, Sean, brought something out from under the booth. The picture is below. Grasp! Impeach Vodka! Now, this is no ordinary vodka. The peach infusion is excellent, and it is quite possibly, the BEST flavoured vodka that Flora has ever tasted! There is also a story to the label. Study it carefully, and let Flora know what you think.
After the exciting discovery, Flora continued her walk and saw many amazing sights. She got excited when she saw the below, but alas, it was Scottish mutton and beef – not whisky! 🙁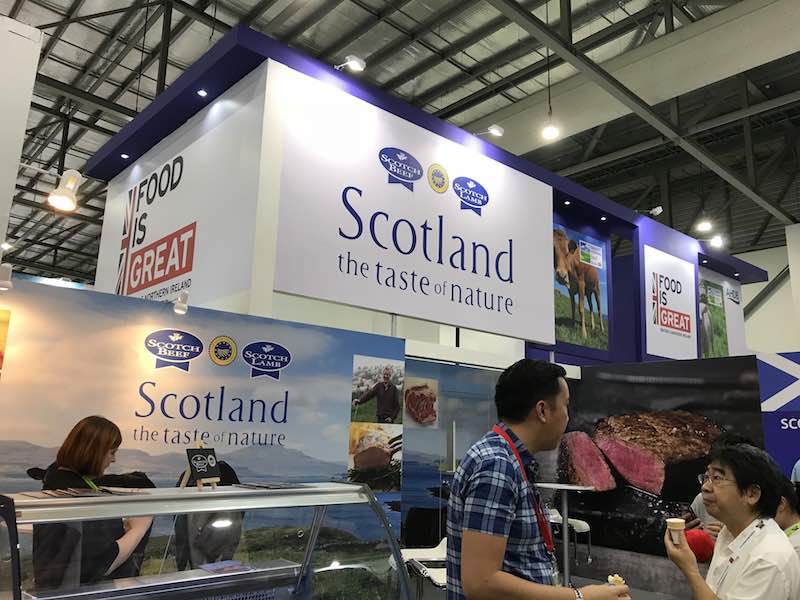 Singapore Online Whisky and Spirits Retailer
The next booth to get Flora excited was Instadrinks, an online retailer in Singapore with their boss based in Dubai. She got to work again, trying out their spirits.
There are Indian blended whiskies and a Scotch grain whisky, but what impressed Flora was neither. An Indian brandy (VSOP) named Leopold II and a London Dry Gin infused with Lavender, named Old Cock Gin caught her attention instead.
Just for the records, Flora wasn't impressed with the name, but the LIQUID. The G&T that the bartender did for Flora with this particular London dry gin was fantastic!
More tastings ahead
Flora did more tastings after this, but they are mostly gins and vodka instead of whisky.
Firean is a peated blended Scotch. Unique on its own, both Flora and Choc agreed that it was a fantastic drink on its own, on the rocks or in a cocktail (Choc tried this on Friday). It is balanced and approachable, so someone who is just going into peated whisky would like it.
The Griffin vodka is charcoal-filtered, so you can imagine just how easy and smooth it is. The liquid is elegant and soothes the throat with its oily and creamy mouthfeel. The Half Crown gins are one of the impressive spirits at this booth. The original gin has a heavy juniper taste, and the botanicals are fragrant. The Pink Grapefruit has a sweeter taste with the grapefruit flavours showing up early in the nose and palate. The Rhubarb and Ginger was a huge favourite for Flora. The sweet and slightly spicy taste of the gin infused amazingly well with the botanicals in the gin, making the nose and palate exceptionally well balanced.
Lapland Vodka
Ever heard of Lapland vodka? Made with spring water all the way from Finland, you can find this vodka here in Singapore! Lapland vodka is a dangerous drink for the young ones though – it is strong and yet so easy to drink. Flora thinks that it is almost like drinking fresh spring water! If you prefer some flavoured vodka, check out the below picture. Flora's favourite is the Espresso flavour. Chill the vodka, pour it in a glass, add cold chocolate milk, and you can have it for supper! It was excellent!
Flora managed to finish up Hall 6 before calling it a day. It was incredibly tiring to walk the halls, and with all the drinks she had, she was getting sleepy too.
Friday 27 April 2018
Flora started Friday early at 10.30 am with a Masterclass by Wine and Spirit Education Trust (WSET). It was an introductory session to the world of whisk(e)y hosted by Lam Chi Mun, the Director at Diageo Bar Academy. Flora was glad to meet Chi Mun and have a chat with him. She also had a great time drinking some excellent whiskies from Diageo.
If you do not know what WSET does, it is a wine and spirits school based in the U.K. They partner schools globally to provide proper and stringent education for the alcohol industry professionals so that we can all learn from the professionals in the bars. You can read more about them here.
Rounding up FHA2018 and PWA2018
Flora did not find any more whiskies or spirits for the rest of the day. She walked around the remaining halls, sampled lots of food, and drank some Taiwan beers. When Choc showed up in the afternoon, they tasted more food, before finally visiting the various booths one last time to wish the exhibitors well on their flights back home.
It was a meaningful three days at FHA2018 & PWA2018, and we are grateful for the opportunity to be part of it. We hope to visit FHA2020 again as Press, and hopefully, there will be even more whisky/whiskey exhibitors then!
Like what you have just read?
https://www.whiskygeeks.sg/wp-content/uploads/2018/04/ProWineAsia.jpg
600
800
Zerlina Zhuang
http://www.whiskygeeks.sg/wp-content/uploads/2017/07/logo_WhiskyGeeks-300x138.png
Zerlina Zhuang
2018-04-29 15:14:53
2018-04-29 15:18:53
Food & Hotel Asia 2018 + ProWine Asia 2018