Whisky Review #30 – Yamazaki Sherry Cask 2013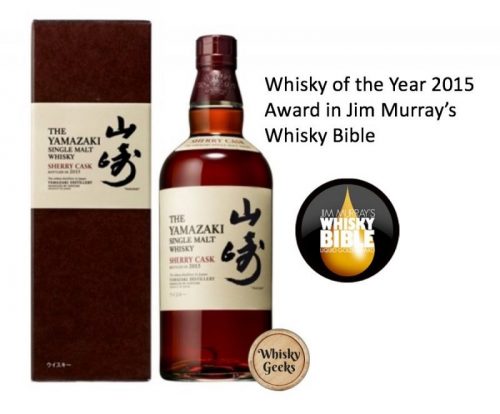 This is the single expression that propels the Yamazaki brand and Japanese Whisky to fame. Yamazaki Sherry Cask 2013 is a no-age statement and was matured solely in oloroso sherry casks. Only 18000 bottles were produced for this expression. This single malt whisky is also produced from malts that created the flavours of the Yamazaki brand. Coupled that with the maturation in oloroso sherry casks, and you get a rich, complex whisky.
In 2015, whisky expert Jim Murray named this 2013 expression of Yamazaki as the World Whisky of the Year with a whooping score of 97.5! It was also the same year that none of the Scottish distilleries made it to the top five! Since then, the Yamazaki brand and Japanese Whisky gained a major foothold in the industry. The rest of the world finally took notice of this Asian giant that has slowly creeped up behind the Scots. Even Jim Murray said that the Scottish whiskies "fell flat" in his books. 2015 was certainly a "wake-up call" for the Scottish brands.
Jim Murray described this whisky as "rich and fruity", with a nose of "exquisite boldness" and finish of "light, teasing spice". In addition, he said,"If anyone wants to find out roughly what the first Macallan 10 year old I had in 1975 tasted like, then grab a bottle of this …" Wow! That certainly felt like gold.
Unfortunately, the whisky was sold out so quickly that we were not in time to grab one in the primary market. Prices of this expression sky-rocketed in the secondary market. Surprisingly, the bottles found in the secondary market were sold out pretty fast as well. At present, only selected shops across the world still have stocks of this expression. The price, of course, is crazy.
We are sad that we are unable to taste this exquisite whisky but we hope to taste it in future!
What about you? If you have tried the Yamazaki Sherry Cask 2013, why not share your experience with us here?
Awards
World Whisky of the Year 2015 – Jim Murray's Whisky Bible
Tasting Notes – Not Available
Comment:
Geek Choc: "I remember back in 2010, I tried my first Yamazaki 12 years, and that made me realized that Japan is not only about sake. Subsequently, I managed to get hold of a bottle of Yamazaki 18 years from DFS, and WOW, I was really awed by the quality of the liquid. If I have the chance, the Sherry Cask is a must-try for me!
Like what you have just read?
https://www.whiskygeeks.sg/wp-content/uploads/2017/08/Yamazaki-Sherry-Cask-2013-small-e1503413868779.jpg
414
500
Zicong Yang
http://www.whiskygeeks.sg/wp-content/uploads/2017/07/logo_WhiskyGeeks-300x138.png
Zicong Yang
2017-08-23 00:30:11
2017-08-26 15:42:22
Whisky Review #30 – Yamazaki Sherry Cask 2013